(This game takes a few seconds to load.)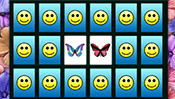 Butterfly Match Game
Description: Match all of the pictures to win.
Instructions: Use the mouse to click or touch the cards to reveal the pictures. Match the pictures to clear the cards from the board.
Category: Butterfly Games
Note: This game requires Java. If game does not load, try installing the newest Java Runtime Environment. As of January 2014, you will need to modify the Java security settings to continue to play our Java Games. Please read more on our blog to learn how to make these changes.
Game Spotlight

Play a classic game of Tic-Tac-Toe (also called Noughts and Crosses) for free online. The object of Tic Tac Toe is to get three in a row. Play a tic tac toe game against the computer. You and the computer take turns to mark a 3 x 3 grid with your own mark, if 3 consecutive marks are formed, the game is won. Play a total of 20 games to determine your final score.