What does the sun drink out of?
JOKE OF THE DAY
Educational Focus: Play & Learn

Read the words on the treasure chest. Click on the key that shows the contraction for the two words on the chest.
Fan Pick of the Week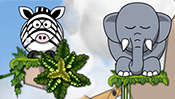 The animals aren't amused by this sleepy elephant's snoring antics…
Game Spotlight

Play games, win ourWorld money, and get clothing and accessories to create your own style.