Do skunks celebrate Valentine's Day?
JOKE OF THE DAY
Educational Focus: Play & Learn
Practice addition skills with sums up to 10 in this fun puzzle game.
Fan Pick of the Week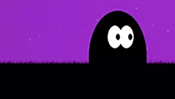 This guy likes the darkness! Jump from platform to platform, collecting coins and stars along the way. He Likes The Darkness is an addicting adventure game and there are 100 levels waiting for you. Can you finish all of the levels?