(This game takes a few seconds to load.)

Train Slide Puzzle
Description: Unscramble the pieces to make a picture.
Instructions: Click on a tile to move it into the empty space.
Category: Transportation Games
Note: This game requires Java. If game does not load, try installing the newest Java Runtime Environment. As of January 2014, you will need to modify the Java security settings to continue to play our Java Games. Please read more on our blog to learn how to make these changes.
Game Spotlight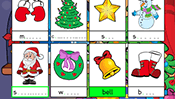 Correctly spell the Christmas words below each picture.