Easter Egg Hop!
Description: You are Hopper, a trainee Easter Bunny. Collect enough eggs in time and you get a bite of the chocolate bunny and entry to the next level. Complete all levels to become a real Easter Bunny!!
Instructions: Use your mouse (no need to click!) to guide Hopper around the screen collecting eggs and baby chicks for Easter presents.
Category: Easter Games
Note: This Flash game was resurrected by Ruffle. We are using Ruffle to emulate our Flash games. It doesn't work for every game yet, but we hope to bring back more and more Flash content as Ruffle is further developed.
Game Spotlight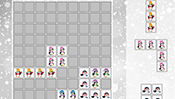 Fill the empty square grid using the pieces on the right. Complete a row horizontally or vertically to make those blocks disappear. Earn points by placing blocks on the grid. The more blocks you place, the more points you earn. How many points can you get