Word Out
Description: Can you master the wordtris by using the descending letters to form meaningful words? In this game, your goal is to arrange the descending blocks of letters so that they form words with at least 3 letters in a horizontal or vertical line and then be destroyed. You can use the down, left and right arrow keys on your keyboard to move a descend block. Take notice of the next letter which is shown on the left of the play area, and aim for a higher score by spelling longer words or the word shown in the bonus section. If a bomb appears, you can land it on a block to destroy all blocks of the same letter, for example, when you land a bomb on a block which writes "A", all of the blocks of the letter A will be destroyed. When a block of fire lands on a block, it will first spread horizontally until its path is blocked by a wall, a block or an empty space. Then it will destroy all connected blocks in the row below its path. If a block of fire has landed on an empty pile, it will simply destroy itself. The game ends when a column of blocks reaches the top of the play area and no more words can be formed. Try to form chains and combos and become an expert of Word Out!
Instructions: Use the arrow keys on your keyboard to control the descending letter block.
Category: Reading Games
Note: This game was built with HTML5. It runs on Chrome, Firefox, Opera, Safari or Internet Explorer 9 or higher. It is also optimized for iOS devices, including iPad, iPod, and iPhone.
Game Spotlight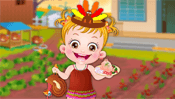 Hurray! Baby Hazel and her family have decided to celebrate Thanksgiving Day at her grandparents' house. Help Baby Hazel get ready for the celebration by dressing her up in a festive costume and accessories. Enjoy fun-filled activities with Hazel at the T