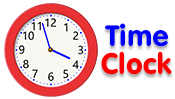 Time Clock
Description: Drag the hands of the clock to show the correct time. When you think you have the right time, press OK. If you answer incorrectly, click the clock face afterwards to see the correct answer. Try and score a perfect game (10 out of 10). Press OK to begin.
Instructions:
Category: Math Games
Note: This game requires Java. If game does not load, try installing the newest Java Runtime Environment. As of January 2014, you will need to modify the Java security settings to continue to play our Java Games. Please read more on our blog to learn how to make these changes.
Game Spotlight
Play games, win ourWorld money, and get clothing and accessories to create your own style.