If pilgrims travel on the Mayflower, then what do college students travel on?
JOKE OF THE DAY
Educational Focus: Play & Learn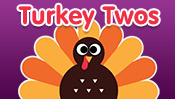 Count by 2s to fill in the missing numbers.
Fan Pick of the Week

No way! You ain't catching me this year! Help the Turkey escape his destiny and avoid becoming dinner. Happy Thanksgiving!
Game Spotlight

Play games, win ourWorld money, and get clothing and accessories to create your own style.