Educational Focus: Play & Learn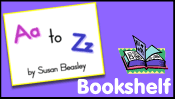 Learn the letters from A to Z in this online Alphabet storybook by Susan Beasley.
Fan Pick of the Week
Use all the crazy power-ups to your advantage as you drive your kart to victory!
Game Spotlight
Play games, win ourWorld money, and get clothing and accessories to create your own style.

Featured Free Printable