Why do bananas use sunscreen?
JOKE OF THE DAY
Educational Focus: Play & Learn

Help Sonic Simon clean teeth with Philip's Sonicare! You have 2 minutes to clean your teeth. Use Sonic Simon and the Sonicare for Kids toothbrush.
Fan Pick of the Week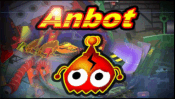 Help Anbot escape the factory in this action packed point and click game! Use your mouse to click on objects or locations on the screen to progress through the game in as few clicks as possible.
Game Spotlight

Play games, win ourWorld money, and get clothing and accessories to create your own style.