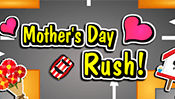 Mother's Day Rush
Description: It's Mother's Day morning. You are excited about the tea party dedicated to your Mom. Suddenly, you realize that the presents are not there yet! Rushing to the town, you need to get the presents on your shopping list one by one. Follow the objectives and directions indicated by the compass at the top left corner, then use the four arrow keys on your keyboard to control your car, and travel to the designated locations marked by green circles to get the presents. You need to drive as fast as possible so that you can get back home with the presents before the time runs out, but note that you still need to maintain proper driving manners and avoid driving in the reverse direction, crossing the lines or violating the traffic lights. If you do not play by the rules, your car may hit and crash. The level of destruction is indicated by the green clamp at the bottom right corner. Whenever your car is crashed, part of the clamp will turn red. If your car is totally damaged, you cannot continue driving and the game will be over. Speed up but drive safely and return home in time before Mom gets upset!
Instructions:
Category: Mother's Day Games
Note: This game requires Adobe Flash Player. If game does not load, try installing the newest Flash Player. This game takes a few seconds to load.