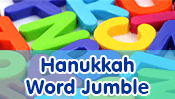 Hanukkah Word Jumble
Description: Try to guess the word. Then click in the applet to show the answer. After showing the answer, click again for another randomly-chosen word with scrambled letters.

This applet will randomly scramble (mix up; jumble) the letters, so sometimes maybe the letters will not be scrambled. This applet will randomly choose the next word, so sometimes you may get the same word again.
Instructions:
Category: Hanukkah Games
Note: This game requires Java. If game does not load, try installing the newest Java Runtime Environment. As of January 2014, you will need to modify the Java security settings to continue to play our Java Games. Please read more on our blog to learn how to make these changes.