Valentine Hunt
Description: The Cupids have been busy spreading love and hiding Valentine Hearts. Can you find all 5 hearts?
Instructions: Click on the picture to find the five hidden Valentine Hearts. The hearts are hidden in different places in every new game.
Category: Valentine's Day Games
Note:
Game Spotlight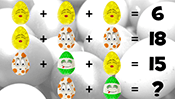 Look at each picture math equation. Use the information from equation to solve for the question mark. What number should replace the question mark?