What do you call a cat at the beach?
JOKE OF THE DAY
Educational Focus: Play & Learn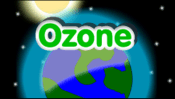 You must protect the ozone layer! Your mission is to achieve a population of nine billion by protecting the Earth. If you lose the ozone layer, you lose all life on Earth.
Fan Pick of the Week

Pick up passengers and drive as fast as you can to their destination. Are you the ultimate Cab Driver?
Game Spotlight

Play games, win ourWorld money, and get clothing and accessories to create your own style.