Featured Game
Crank up those engines and put the pedal to the floor! Can you race your way to the top to become the champion of the streets?
More Games

Rotate the blocks until four blocks of the same kind form a square of any size. Press the space bar or click the arrow buttons to change the rotation.

Destroy the debt blocks by making them contact with the money blocks of the same color. Watch out for the credit card blocks, as they will generate new debts.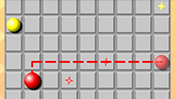 Move the balls to form lines of 5 or more balls of the same color. The lines can be horizontal, vertical, or diagonal.