Practice addition and subtraction skills in this fun puzzle game.

Drag the blocks from the outside to the inside to construct the image.

Move the tiles to unscramble the picture by clicking on any two tiles to swap positions.

Turn the puzzle pieces to make a Groundhog Day picture.

Practice multiplication skills with factors up to 12 in this fun puzzle game.

Guess the Groundhog Day word by choosing one of the letters. Find the correct letters to complete the word.

Drag the shapes from the bottom to the picture to make it complete again.

Drag the columns into the correct position to make a picture of a Groundhog.

Unscramble the pieces to make a Groundhog picture.

Put this jigsaw puzzle together to reveal a picture of a Groundhog.

Each word on the list is hidden in the pool of letters.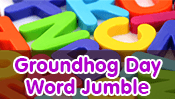 The letters in each word have been scrambled.

Groundhogs have invaded Toto's garden and he is determined to scare them away.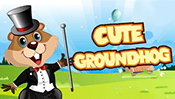 Prepare for Groundhog Day with a stylish dress-up game and a funky groundhog to dress-up!