You will need Adobe Acrobat Reader to view and print the file on this page.
Click here to get Adobe Reader
.
Game Spotlight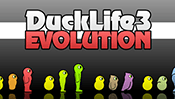 The third installment of DuckLife. Train up your duck and enter it in races! This time, Ducklife meets Pokemon as the ducks can evolve to become naturally better at certain skills.