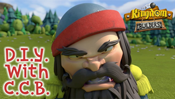 Episode 3: D.I.Y. with C.C.B.
Description: Learn more about Kingdom Builders: https://kingdombuilders.mgae.com/ Want to buy Kingdom Builders? Find a retailer here: http://bit.ly/BuyKingdomBuilders Welcome to the new animated series Kingdom Builders! Join the Builders, led by Sir Philip, as they help protect the Magic Tools hidden deep inside of Hex Castle. Captain Cannonblast and his team of Bashers will do whatever it takes to steal them! The Magic Tools give the Builders the ability to transform into tools, just imagine how unstoppable the Bashers would be with that power! Do you like to build, or do you like to bash? Comment below and let us know! Have you ever had a bad dream? Let us know in the comments below! In a world where kingdoms are built then bashed by bad guys, it's a never-ending battle between Builders and Bashers! 🛠 Join the Builders and King Hex 👑 as they protect the Hex Castle from the Bashers! Find NEW Kingdom Builders toys exclusively at Target! Build your kingdom 🔧, bash it down 🔨, and remodel it any way you like! The Builders action figures transform into powerful building tools! Collect Sir Philip, Sir Hammer of Head, Sir Wrench-A-Lot, and Lady Twist!The Bashers action figures transform into mighty demolishing tools! Collect Crow DeBar, Sledge Hammerfist, and Wreckin The Ball-Barian! You can find King Hex in the Kingdom Builders Hex Castle! Hex Castle can be built to over 2 and a half feet tall and is full of surprises like a secret dungeon, working drawbridge, hidden trapdoor, and more! You can customize Hex Castle your way with 30+ pieces to build and bash! Captain Cannonblast can be found in the Kingdom Builders Wreckin Roller, which can be built up to 2 feet tall! A shooting iron fist, dropping balcony, and cannon are just a few of the surprises you'll find in the Wreckin' Roller. And don't forget the Kingdom Builder's Build A Beast so your Builders can ride into action! Customize his tools to help defend and remodel Hex Castle! 🏰#BeAKingdomBuilder #BuildBashRemodel Let's Be Friends! 👫 Visit Us at https://kingdombuilders.mgae.com/ - Come hang out with us at the home 🏰 of Kingdom Builders! Learn more about your favorite Kingdom Builders characters, watch videos 🎥, and more!
Category: Kingdom Builders
Note: This video streams on an HTML5 player. It runs on Chrome, Firefox, Opera, Safari or Internet Explorer 9 or higher. It is also optimized for iOS devices, including iPad, iPod, and iPhone.