You will need Adobe Acrobat Reader to view and print the file on this page.
Click here to get Adobe Reader
.
Game Spotlight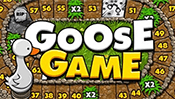 The Goose Game is a board game where two or more players move pieces around a board by rolling dice. The aim of the game is to reach square number sixty-three before any of the other players while avoiding obstacles along the way.