You will need Adobe Acrobat Reader to view and print the file on this page.
Click here to get Adobe Reader
.
Game Spotlight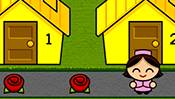 Help Valerie Valentine complete her Valentine's Day rose deliveries!. Valerie has so many flower orders deliver today. Collect the number of roses requested and take them to the house specified. Look out for those Valentine's Day grumps! They are out to steal Valerie's flowers and keep her from make her deliveries.