You will need Adobe Acrobat Reader to view and print the file on this page.
Click here to get Adobe Reader
.
Game Spotlight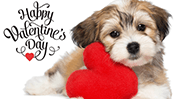 Awww isn't that a cute dog? This valentine puppy jigsaw puzzle is made to celebrate valentines day, we hope you like it! Put the jigsaw puzzle together to reveal a picture of a puppy holding a Valentine's Day heart. Adjust the number of puzzle pieces to make the jigsaw puzzle easy or hard to solve. Race against the clock to see how quickly you can complete this free online jigsaw puzzle. Flex your brain and play this beautiful full screen HD photo jigsaw puzzle online.