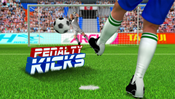 You have 15 attempts to try to score as many goals as you can. Can you beat the goalie?

Try to stop as many balls as possible over 7 rounds of 5 penalty kicks. Watch out for curve balls and different ASDA products used as footballs.

Compete to be the Champion and become a soccer star!

Your opponent has the soccer ball at his feet. It's your job to take from him anyway you can.

Keep the ball in the air. You can score only when you do Around the World tricks.

Use the arrow keys to move the players. Click the mouse to tackle or kick the ball to where to cursor points.