You will need Adobe Acrobat Reader to view and print the file on this page.
Click here to get Adobe Reader
.
Game Spotlight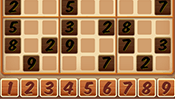 Fill all of empty squares in the grid with a number. Each number may appear only once in each row, column, and 3x3 box. Each puzzle has only one solution. If you try to place a picture where it already exists on that row, column, or small square, all occurrences will flash. Set the difficulty to easy, medium, hard or expert level depending on your Sudoku puzzle skills.