You will need Adobe Acrobat Reader to view and print the file on this page.
Click here to get Adobe Reader
.
Game Spotlight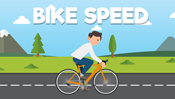 Take your bike out for a ride around the block. Pedal as fast as you can while avoiding all of the obstacles on the road. Challenge yourself to see how far you can ride before crashing.