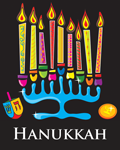 Hanukkah History
The history of Hannukah predates Christmas. Antiochus, the Greek King of Syria, outlawed Jewish rituals and ordered the Jews to worship Greek gods. Most Jews were angry and decided to fight back. In 165 B.C.E, the Jewish Maccabees managed to drive the Syrian army out of Jerusalem and reclaim their temple. Hanukkah is the celebration of this victory. In history, Hanukkah has been a minor holiday, only gaining in popularity since the late 1800's. In Hebrew, the word "Hanukkah" means "dedication."

The Macabees wanted to rededicate their temple by lighting the "eternal flame," but they only had enough consecrated oil to burn for one day. Miraculously, that little bit of oil lasted for eight days until more purified oil could be found. Today, Jewish families light candles or burn oil in a candelabra called a "menorah" for the eight days of Hanukkah, adding one candle each day. The special "helper candle" used to light the rest of the candles each night is called the Shamash. On the first night, the Shamash plus one other candle are lit. On the second night, the Shamash plus two candles are lit. This process is continued on through the eight nights. The eight-day lighting of the candles commemorates the eight-day miracle of the oil.
History of the Holidays: Hanukkah
Hanukkah celebrates the triumph of Jewish people over religious persecution.