You will need Adobe Acrobat Reader to view and print the file on this page.
Click here to get Adobe Reader
.
Game Spotlight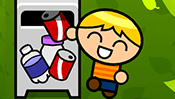 Pick up all the garbage in the park and throw it in the correct bin. Turn the grey children back into green by walking into them, but do it quick, because grey children will throw new garbage in the park!