You will need Adobe Acrobat Reader to view and print the file on this page.
Click here to get Adobe Reader
.
Game Spotlight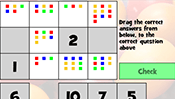 Count up the blocks shown in each square. Drag the correct number from the bottom onto the top of the same number of blocks. Once you have finished click on check answer to check your work.