You will need Adobe Acrobat Reader to view and print the file on this page.
Click here to get Adobe Reader
.
Game Spotlight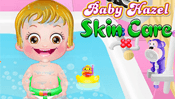 Blasting heat and dry winter air can wreaks havoc on your delicate skin. Help Baby Hazel care for her dry and cracked skin by restoring it's glow and softness back.