You will need Adobe Acrobat Reader to view and print the file on this page.
Click here to get Adobe Reader
.
Game Spotlight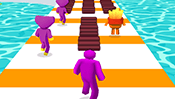 Race your way to the finish line in this exciting racing game. The goal is to reach the finish line first, but you're going to need to take a few shortcuts if you want to win the race. Collect planks and use them build bridges across the water allowing you to take a shortcut and shorten the race track. Don't fall in the water or you'll have to start over again. If you finish in first place you will enter the bonus round with a chance to multiply your coin prize. Collect coins to upgrade your character. Unlock new plank types and additional racing tracks by completing levels. Slow and steady wins the - oh wait... we meant to say fast and crafty wins the race!