You will need Adobe Acrobat Reader to view and print the file on this page.
Click here to get Adobe Reader
.
Game Spotlight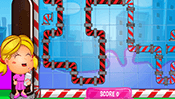 Rotate the pipes by clicking on them to connect the starting pipe with the ending pipe. Try to complete the pipeline without running out of possible moves. Beware! Some pipes will not be needed to complete the pipeline. Don't let them trick you!