You will need Adobe Acrobat Reader to view and print the file on this page.
Click here to get Adobe Reader
.
Game Spotlight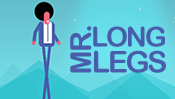 Meet Mr. Long Legs, the world's tallest man. Mr. Long Legs can stretch his legs to walk over buildings. Avoid the obstacles along the path to help Mr. Long Legs reach his destination.