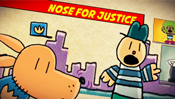 George and Harold have created a new hero who digs into deception, claws after crooks, and rolls over robbers.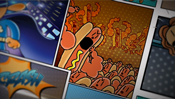 Hot diggity dog! Dog Man, the newest hero from Dav Pilkey, the creator of Captain Underpants, is back -- and this time he's not alone.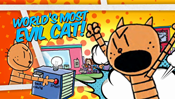 This time, Petey the cat's dragged in a tiny bit of trouble -- a double in the form of a super-cute kitten. Dog Man will have to work twice as hard to bust these furballs and remain top dog!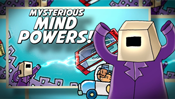 Can Dog Man unleash justice on this ruffian in time to save the city, or will Petey get away with the purr-fect crime?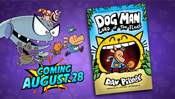 Be the first to get a sneak peek at Chapter 1 of Dog Man's next adventure, DOG MAN: LORD OF THE FLEAS, coming August 28!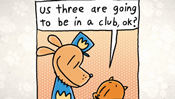 Dog Man and his pals have just formed an epic new club called Supa Buddies. Get a sneak peek at Chapter 1 now!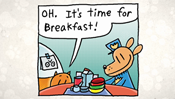 In part 3 of our sneak peek, join the Supa Buddies for breakfast (in Flip-O-Rama!).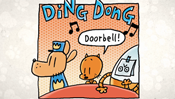 Sounds like someone's at the Supa Buddies' door… but who could it be?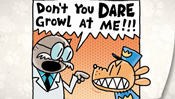 In part 5 of our countdown to DOG MAN: LORD OF THE FLEAS on 8/28, the Supa Buddies are visited by one nasty cat! Tune-in next week for another sneak peek!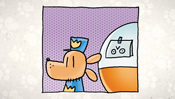 The countdown to the release of DOG MAN: LORD OF THE FLEAS on August 28 continues…! What will Dog Man and 80-HD do while Li'l Petey's at school? Catch another sneak peek next Friday!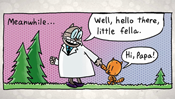 Is Li'l Petey onto something when it comes to Dr. Katz's identity? Find out next Friday in another can't-miss sneak peek!

Wondering who's disguised as Dr. Katz? Find out right now in part 8 of our countdown and check back next Friday for another special episode!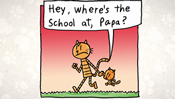 There are less than TWO WEEKS to go until DOG MAN: LORD OF THE FLEAS! In part 9 of our countdown, Li'l Petey has one question: Why? Check back next Friday for the FINAL episode!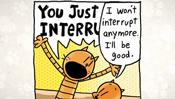 Hot diggity dog! We're back with the final sneak peak of DOG MAN: LORD OF THE FLEAS! Can't wait to read the rest of Petey's story? The brand-new book hits shelves on August 28!