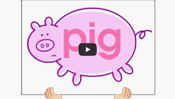 The Big Pig Song
Description: The Big Pig Song is a singalong song from Hooked on Phonics Learn to Read. You laugh, you'll cry. You'll learn words that have the letter i.
Category: Reading
Note: This video requires Adobe Flash Player. If video does not load, try installing the newest Flash Player. This video takes a few seconds to load.

Common Core State Standards: CCSS.ELA-Literacy.RF.K.2

Hooked on Phonics
Game Spotlight

Play games, win ourWorld money, and get clothing and accessories to create your own style.