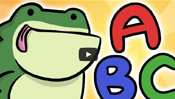 Letters of the Alphabet : Song (Part 1)
Description: When Pete wants to hear the alphabet song, Simon recites the ABCs. But listen carefully -- Simon is a pretty fast talker, and it can be hard to keep up!
Category: Reading
Note: This video requires Adobe Flash Player. If video does not load, try installing the newest Flash Player. This video takes a few seconds to load.

Common Core State Standards: CCSS.ELA-Literacy.RF.K.1d - Recognize and name all upper and lowercase letters of the alphabet.
Game Spotlight

Play games, win ourWorld money, and get clothing and accessories to create your own style.