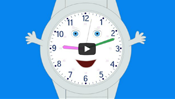 What's the Time?
Description: It's a video to help children learn how to tell the time. This song was written and performed by A.J.Jenkins. Video by KidsTV123.
Category: Math
Note: This video requires Adobe Flash Player. If video does not load, try installing the newest Flash Player. This video takes a few seconds to load.

Common Core State Standards: CCSS.Math.Content.1.MD.B.3

Kids Songs 2
Game Spotlight

Play games, win ourWorld money, and get clothing and accessories to create your own style.