You will need Adobe Acrobat Reader to view and print the file on this page.
Click here to get Adobe Reader
.
Game Spotlight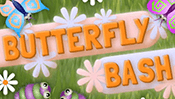 Turn crawling bugs into beautiful butterflies! Click on single butterflies and see the magic happen! Use different kinds of bugs to perform chain reactions to get extra points.