You will need Adobe Acrobat Reader to view and print the file on this page.
Click here to get Adobe Reader
.
Game Spotlight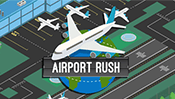 Test your skills as an airport traffic controller. Clear the aircraft for takeoff and landing, while making sure that the runways stay clear to oncoming traffic at all times. Help the planes land safely and taxi to the airport gate to drop off the passengers. Once the planes have refueled and reloaded, they will be ready to take off again. Choose from three different airports and use your best time management skills to keep the planes safely flowing in and out of the busy airport terminal.