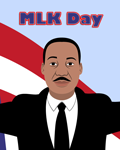 MLK Day History
Civil Rights leader Dr. Martin Luther King, Jr. was born in Atlanta, Georgia on January 15, 1929. He became a minister and dedicated his life to achieving equality and justice for people of all colors.

King urged his followers to engage in peaceful demonstrations during the civil rights movement. He protested the racial discrimination in federal and state law against African Americans. During the "March on Washington", King delivered his famous "I Have a Dream" speech, which boosted public support for civil rights. He won the Nobel Peace prize in 1964.

Dr. Martin Luther King, Jr. was assassinated on April 4, 1968 in Memphis, Tennessee. The campaign for a federal holiday in King's honor began soon after his assassination in 1968. President Ronald Reagan signed the holiday into law in 1983, and it was first observed three years later. At first, some states resisted observing the holiday. It was officially observed in all 50 states for the first time in 2000.