You will need Adobe Acrobat Reader to view and print the file on this page.
Click here to get Adobe Reader
.
Game Spotlight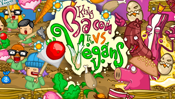 Oh no! King Bacon and his wicked sidekicks have invaded Veganopolis and are messing up the city. Stop them from creating havoc, but watch out for those innocent chickens fleeing for safety.