You will need Adobe Acrobat Reader to view and print the file on this page.
Click here to get Adobe Reader
.
Game Spotlight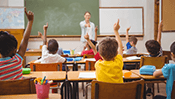 Put the jigsaw puzzle pieces together to form a picture of classroom with a teacher and students who have returned back to school. Adjust the number of pieces to make they jigsaw puzzle easy or hard to solve. Race against the clock to see how quickly you can complete this free online jigsaw puzzle. Flex your brain and play this beautiful full screen HD photo jigsaw puzzle online. Play Back To School Jigsaw Puzzle online on your mobile phone, tablet or computer.