Featured Game
It's Halloween craft making day at Baby Hazel's school and her teacher has asked the students to bring Halloween crafts to class. Join Hazel and help her make Halloween crafts and design Halloween costumes. Later, help Baby Hazel decorate the class. There is also a craft competition for kids. Help Hazel create unique Halloween crafts.
More Games

Beast Boy pretends to be a ghost haunting Starfire so she will do his bidding.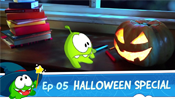 With funny costumes and tons of candy, Halloween should be one of Om Nom's favorite holidays. But, first, he needs to overcome his fears!