Featured Game
There's something spooky going on in the old manor, it has been infested with ghosts! Shaggy & Scooby need your help to clean this place up.
Beast Boy pretends to be a ghost haunting Starfire so she will do his bidding.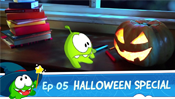 With funny costumes and tons of candy, Halloween should be one of Om Nom's favorite holidays. But, first, he needs to overcome his fears!
Game Spotlight
Play games, win ourWorld money, and get clothing and accessories to create your own style.