Featured Game
Make your own Jack-o-lantern! Print or save your design to share your friends and family.
More Games

Beast Boy pretends to be a ghost haunting Starfire so she will do his bidding.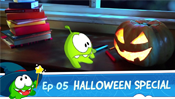 With funny costumes and tons of candy, Halloween should be one of Om Nom's favorite holidays. But, first, he needs to overcome his fears!