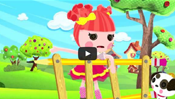 Ember Flicker Flame™ is looking for someone to save, but there's only one problem--none of her friends need saving!"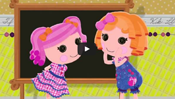 Sunny Side Up is keeping her friends awake with her loud snoring, so they band together to help her find a cure.

Watch Jewel Sparkles' Un-Birthday Party, the FIRST EVER Lalaloopsy™ webisode!

Mittens Fluff 'N' Stuff wants a snow day but her Lalaloopsy™ friends want to go to the beach in the second Lalaloopsy™ webisode!

Watch Lalaloopsy™ webisode 3 to see Peanut Big Top™ learning how to ride the unicycle with her pet elephant.

There's nothing Pillow Featherbed™ loves more than sleepover parties with her friends, but what will they do during their party?

Watch as Bea Spells-a-Lot and her friends prepare their pets for the first ever Lalaloopsy Land Pet Talent Show!

Holly Sleighbells seeks the help of her friends in Lalaloopsy Land to help her find Reindeer's missing gift.