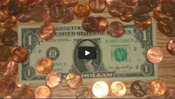 One Penny - US Coins Song
Description: Learn about the value of US coins and the dollar.
Category: Math
Note: This video requires Adobe Flash Player. If video does not load, try installing the newest Flash Player. This video takes a few seconds to load.

Common Core State Standards: CCSS.Math.Content.2.MD.C.8 - Solve word problems involving dollar bills, quarters, dimes, nickels, and pennies, using $ and ¢ symbols appropriately. Example: If you have 2 dimes and 3 pennies, how many cents do you have?
Game Spotlight

Play games, win ourWorld money, and get clothing and accessories to create your own style.