You will need Adobe Acrobat Reader to view and print the file on this page.
Click here to get Adobe Reader
.
Game Spotlight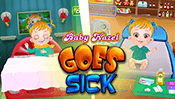 Good morning! Baby Hazel is still sleeping. Oh no! Does she have a fever? Use a thermometer to check her temperature and take her for a medical check-up if she has a fever.