You will need Adobe Acrobat Reader to view and print the file on this page.
Click here to get Adobe Reader
.
Game Spotlight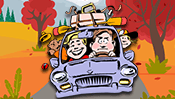 Over the river and through the house to Grandmother's house we go... Help the family find their way to Grandma's house for Thanksgiving dinner. You will need to pick the correct path to get through the twisty-turny labyrinth. Complete each challenging maze puzzle to finish the game. Can you find the exit and escape the maze?