You will need Adobe Acrobat Reader to view and print the file on this page.
Click here to get Adobe Reader
.
Game Spotlight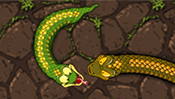 Race to gobble up the fruit as fast as you can to become the biggest snake. Watch out for those other snakes! They are out to devour you. One touch and it's game over.