You will need Adobe Acrobat Reader to view and print the file on this page.
Click here to get Adobe Reader
.
Game Spotlight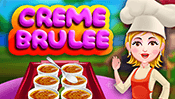 Hazel's mom loves cooking. Today she will be sharing her great creme brulee recipe. Come and check out Hazel and Mom's recipe and learn how to cook a very tasty "creme brulee".