You will need Adobe Acrobat Reader to view and print the file on this page.
Click here to get Adobe Reader
.
Game Spotlight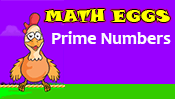 Catch eggs from chickens that are prime numbers. Your score will be decreased if you catch composite numbers (not prime). You have 3 lives at the start of the game. Lose a life when an egg from a chicken showing a prime number breaks on the ground.