You will need Adobe Acrobat Reader to view and print the file on this page.
Click here to get Adobe Reader
.
Game Spotlight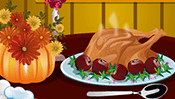 Today, you're the head chef. You're in charge of creating the menu for the delicious Thanksgiving feast your family is hosting this year. Browse the wide selection of festive holiday options and flavorful turkey dish that everyone will love.