You will need Adobe Acrobat Reader to view and print the file on this page.
Click here to get Adobe Reader
.
Game Spotlight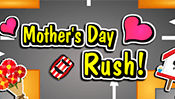 It's Mother's Day morning. You are excited about the tea party dedicated to your Mom. Suddenly, you realize that the presents are not there yet! Rushing to the town, you need to get the presents on your shopping list one by one.