(This game takes a few seconds to load.)
Javascript by Keith Drakard

Simon Says
Description: Press the start game button to begin. Watch the computer and copy the pattern it makes. Complete the sequence in the right order to win.
Instructions:
Category: Simon Says
Note: This game requires Java. If game does not load, try installing the newest Java Runtime Environment. As of January 2014, you will need to modify the Java security settings to continue to play our Java Games. Please read more on our blog to learn how to make these changes.
Game Spotlight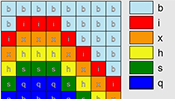 It's color by Alphabet! To determine the color of each space, use the code at the side of the page. The final picture will be revealed as each square is filled.