Featured Game
The best online music game EVER! Keep the rhythm to chart topping tracks and rock the party!
More Games

Ready to be a virtual drummer? This reindeer loves to jam out on the drums. Touch or mouse over the drum set to play.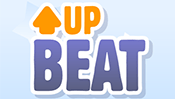 The best online music game EVER! Keep the rhythm to chart topping tracks and rock the party!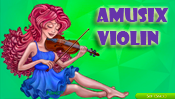 In Amusix: Violin you can be a master fiddler! Play classical, folk, and modern songs on your violin in this fluid, easy-to-understand game. Unlock the inner musician in you!

Trace the the controller over the action to make the characters move. Complete combo's of moves to get them dancing. Copy the action perfectly for maximum points.

To start the music press and hold the correct keys. Try to get the gold star by not making mistakes. You have to practice to get the songs just right.

Are you ready to rock? As the song plays, watch the colored discs move down the screen. When the disc hits the bottom of the screen, hit the correct number on the keyboard.

Get ready to become a rockstar hero. First choose your difficulty level then pick your song.

Oh no! The "Just Call Me Harvey" rock band was on their way to a big concert in Franktown when they lost their music. Can you help?

Arrows will fall to the beat of a Clique Girlz song. When they hit the diamonds press the arrow key that matches the falling arrow.

Franktown Rocks is a fun mutliplayer online game 8-12. You can create a character and walk around the city of Franktown and play with other characters.

Welcome to Angela Anaconda's new sound effects suite. Her latest cartoon is nearly finished, but there is no sound yet. You need to go to the mixing machine and choose the sounds you think work best.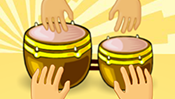 Repeat the pattern of drum beats played by the computer. Press the left arrow key to hit the left side, and the right arrow key to hit the right side.

Click the correct key as the musical notes appear.

Listen to the notes and then replay them by pressing the correct buttons.